BATTERY TESTER BT3554 (Built-in Bluetooth® wireless technology)
Streamline UPS and lead-acid battery diagnostics with measurement and recording guidance

Hioki portable battery testers support the maintenance of UPS and storage batteries critical to the life support of all businesses. The BT3554-50 battery internal resistance tester sets the standard for assessing the deterioration and remaining life of UPS and other lead-acid batteries by giving a complete diagnosis via battery resistance testing. The specially designed L2020 Pin Type Lead further improves testing efficiency with an L-shaped tip that lets you reach deep into the battery racks to completely probe the terminals.
Key Features
Battery measurement can be performed while the battery is connected to its host device, without taking it offline

Measure and save data in as fast as 2 seconds, a 60% improvement from the legacy 3554

Instantaneously diagnose battery degradation (PASS, WARNING, FAIL) by measuring internal resistance and voltage (*1)

Noise reduction technology improves noise resistance

Screen and audio (*2) guidance simplifies measurement

Measurement data is linked to site information and saved, reducing management man-hours

Easily transfer measurement data to your smartphone or tablet by using our free app GENNECT Cross (*3) or to an Excel® file. (Wireless Adapter Z3210 is necessary)
*1:

The thresholds for determining the pass/fail condition of a battery depends on the specifications and standards of the battery manufacturer, battery type, capacity, etc. It is important and necessary to always conduct battery testing against the internal resistance and terminal voltage of a new or reference battery. In some cases, it may be difficult to determine the deterioration state of traditional open type (liquid) lead-acid or alkaline batteries which demonstrate smaller changes in internal resistance than sealed lead acid batteries.

*2:

Audio generated by Bluetooth®-connected device.

*3:

Data can be downloaded to tablets and smartphones using Hioki's dedicated free app ''GENNECT Cross,'' available from the Google Play or App Store. (when using the Z3210)
| | |
| --- | --- |
| BT3554-50 | Pin Type Lead not included |
| BT3554-51 | Bundled with Pin Type Lead 9465-10 |
| BT3554-52 | Bundled with Pin Type Lead L2020 |
Accurately assess lead-acid battery deterioration using proprietary technology
The new Battery Tester BT3554-50 sets a new standard for UPS and lead-acid battery diagnostics. Since the battery's internal resistance and voltage are measured using the impedance method, diagnostics can be performed while the battery is connected to its host device, without taking it offline. Proprietary noise reduction technology allows more accurate measurement, even in noisy environments.

Generating comparative judgments based on a lead-acid battery's internal resistance and voltage
By using its comparator function to simultaneously measure the internal resistance and voltage of a lead-acid, nickel-cadmium, or nickel-hydride battery, the BT3554-50 can generate comparative judgments quantifying degradation of the cell based on user-specified threshold values.
Furthermore, voltage sign detection facilitates instantaneous determination of whether batteries have been connected properly in newly installed UPS systems.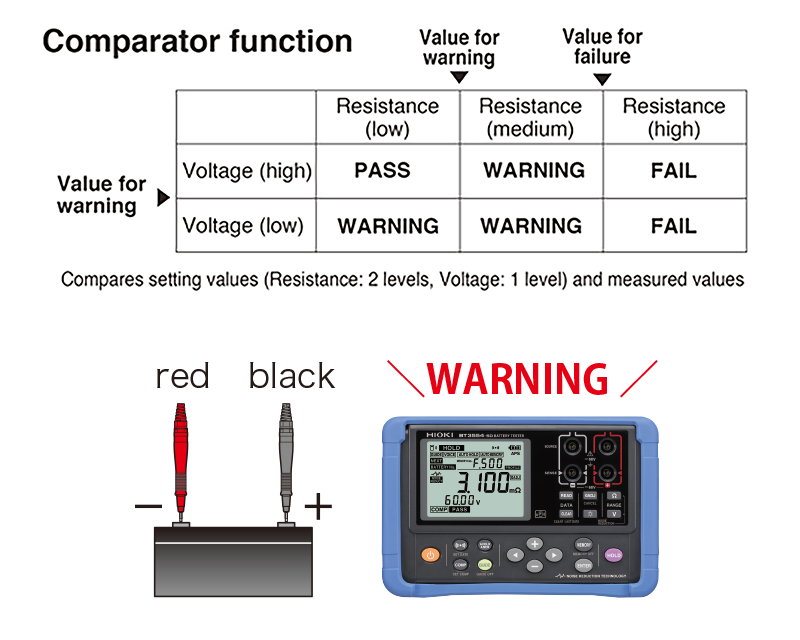 Applications: Manage other UPS inspection data together
GENNECT can serve as a central repository for managing data from Hioki clamp meters and other instruments.
Example: UPS inspection
1.UPS system ACV measurement (CM4372, CM4374)
2.DCV measurement (CM4372, CM4374)
3.AC/DC current measurement (CM4372, CM4374)
4.Ripple current measurement (CM4002)
5.Battery degradation diagnostics (BT3554-50)
6.Measurement site photograph



Saving data easily just by placing the leads in contact with a battery's terminals
The BT3554-50 auto-hold function automatically holds measured values once they stabilize. The instrument's auto-memory function, which automatically stores measured values resulting from the auto-hold function in its internal memory, further streamlines work tasks.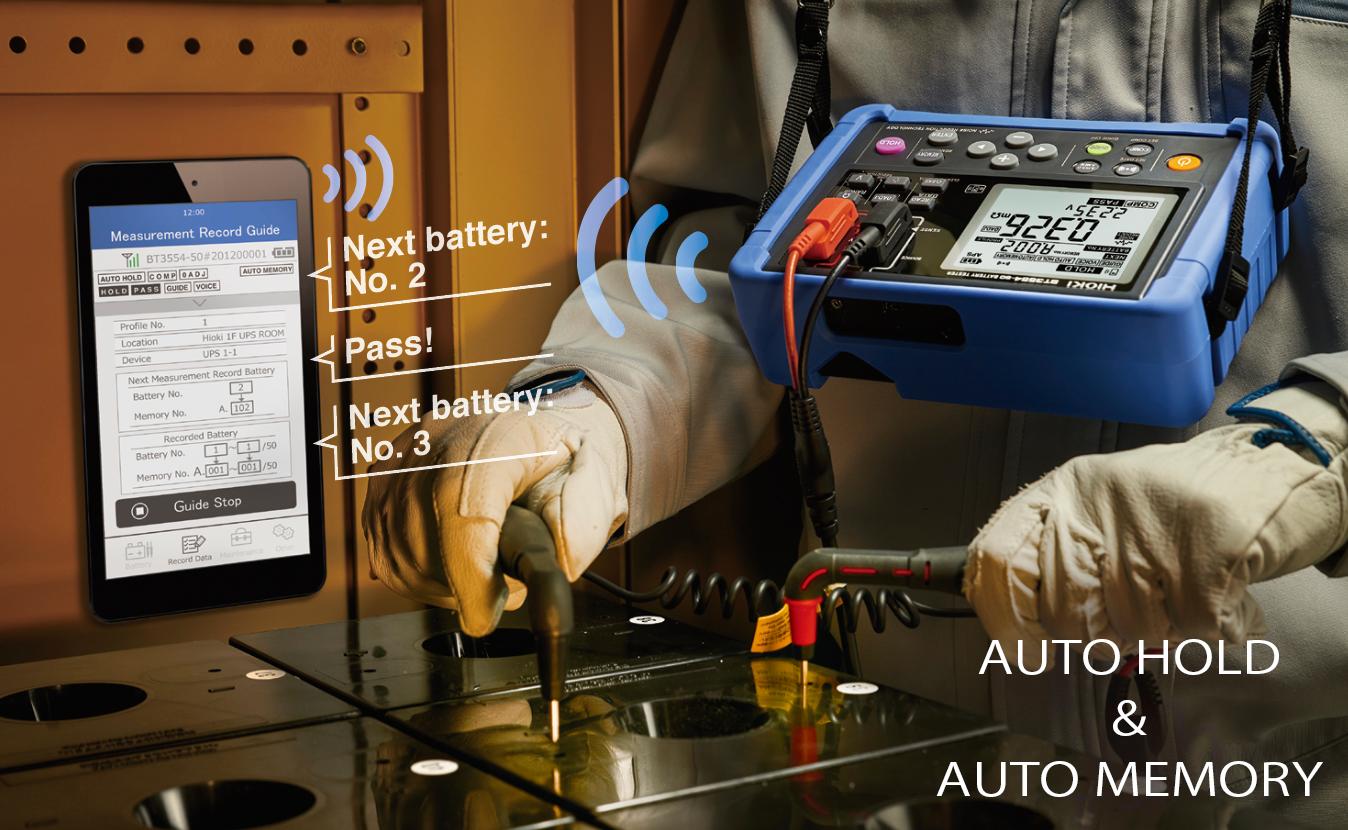 Basic specifications
Accuracy guaranteed for 1 year, Accuracy guarantee period after adjustment made by Hioki: 1 year
 
BT3554-50
BT3554-51
BT3554-52
Resistance measurement range
3 mΩ (max. display 3.100 mΩ, resolution 1 μΩ) to 3 Ω (max. display 3.100 Ω, resolution 1 mΩ), 4 ranges
Accuracy: ±0.8 % rdg ±6 dgt (3 mΩ range: ±1.0 % rdg ±8 dgt)
Testing source frequency: 1 kHz ±30 Hz
With function for avoiding noise frequency enabled: 1 kHz ±80 Hz
Testing current: 160 mA (3m/30 mΩ range), 16 mA (300 mΩ range), 1.6 mA (3 Ω range)
Open terminal Voltage: 5 V peak
Voltage measurement range
± 6 V (max. display ±6.000 V, resolution: 1 mV) to ± 60 V (max. display ±60.00 V, resolution: 10 mV), 2 ranges, Accuracy: ±0.08 % rdg ±6 dgt
Temperature measurement accuracy
Measurement range: -10°C to 60°C (14°F to 140°F), Maximum display: 60.0°C (140.0°F), Resolution 0.1°C (0.1°F), Measurement accuracy*: ±1.0°C (±1.8°F)
* When using the Clip Type Lead with Temperature Sensor 9460.
* When using the Temperature Probe 9451, add ±0.5°C (±0.9°F) (cable length: 1.5 m [59.1'']).
* When using the Temperature Probe 9451S, add ±0.5°C (±0.9°F) (cable length: 0.1 m [3.94'']).
BT3554-50 standalone accuracy with simulated input: ±0.5°C (±0.9°F)
Absolute max. input voltage
60 V DC max. (No AC input)
Measurement time
100 ms
Response time
Approx. 1.6 sec.
Comparator
Compares measured values with set threshold values to make judgments and reports them to the user.
Judgment notification method: Results are displayed as shown below (segment) and beeping tones sound
When the Voltage value (high): Resistance value (low)= PASS, Resistance value (medium)= WARNING, Resistance value (high)= FAIL
When the Voltage value (low): Resistance value (low)= WARNING, Resistance value (medium)= WARNING, Resistance value (high)= FAIL
If the judgment result is WARNING or FAIL, the audio tone is accompanied by a red backlight.
User-selectable voltage judgment method: ABS (absolute value judgment), POL (polarity judgment )
Savable settings: 200 tables
Memory functionality
Operation: Save, load, and delete measurement data, Save and delete profile information, Number of data sets: 6000, Memory architecture: 500 data sets per unit (12 units)
Saved data: Saved measurement data is linked to profile information.

1. Measurement data: Data can be saved, loaded, and deleted by operating the instrument.
-1. Date and time
-2. Resistance value, voltage value, and temperature
-3. Comparator threshold value and judgment result

2. Profile information: Profile information can be saved, loaded, and deleted using a supported application (GENNECT Cross or GENNECT One).
-1. Profile numbers: 1 to 100 (Data (2), (3), and (4) below are saved for each profile number)
-2. Location: User-defined comment such as location of UPS
-3. Device information: User-defined comment such as UPS management number
-4. Battery number: 1 to 500 (start number, end number)
Measurement Navigator
Operation: Announces the next battery number to be measured via a screen display and audio guidance.
Audio output is generated by a connected mobile device when using the Z3210 and a supported application (GENNECT Cross).
Preparations: Profile information that's been registered with a supported application (GENNECT Cross or GENNECT One) must be transferred to the instrument.
Communication interface
USB
Bluetooth® wireless communications (when Z3210 installed)
Other functions
Temperature measurement (-10.0 to 60.0 °C), Zero-adjustment, Hold, Auto-hold, Auto-memory, Auto-power-save, Clock
Power supply
LR6 (AA) Alkaline dry battery ×8
Continuous operating time: About 8.3 hr. (without Z3210 installed), About 8.2 hr. (with Z3210 installed and wireless communications active)
Dimensions and mass
199 mm (7.83 in)W × 132 mm (5.20 in)H × 60.6 mm (2.39 in)D (with protector), 960 g (33.9 oz) (including batteries and protector)
Accessories
Carrying Case C1014 ×1, Protector Z5041 ×1, Fuse Set Z5050 ×1, 0 Adj Board ×1, Neck strap ×1, USB cable ×1, Application software CD (GENNECT One) ×1, AA alkaline battery (LR6) ×8, User Manual ×1
 
Instrument only
With Pin Type Lead 9465-10
With Pin Type Lead L2020
Inquiry - HIOKI BATTERY TESTER BT3554-50