1.6–3.8kW Single-Phase 100–240V Basic PDU, 14 Outlets (12 C13 & 2 C19), C20 with L6-20P Adapter, 12
---
---
1.6–3.8kW Single-Phase 100–240V Basic PDU, 14 Outlets (12 C13 & 2 C19), C20 with L6-20P Adapter, 12 ft. Cord, 1U Rack-Mount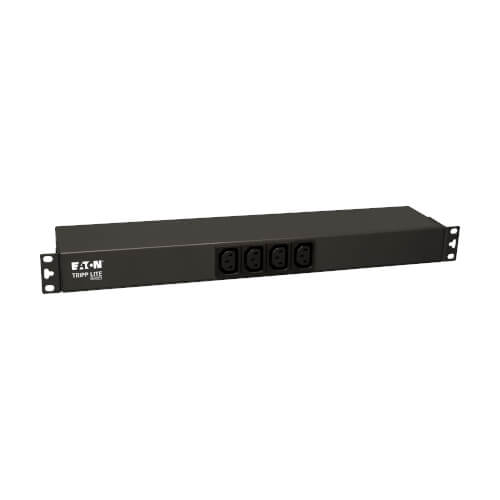 Versatile 20A 100–240V PDU is compatible with wide range of voltages to deliver single-phase AC power to multiple loads from a utility outlet, generator or UPS system. Ideal for data centers, server rooms and network wiring closets.
C20 input with detachable 12 ft. cord and L6-20P adapter
14 total outlets—12 C13 and 2 C19
Switchless design prevents accidental shutdown
Reversible all-metal housing
Installs in rack, on wall or under counter
Overview
The PDUH20DV 1.6–3.8kW Single-Phase 100–240V Basic PDU is a versatile no-frills unit for data centers, server rooms and network wiring closets. Perfectly suited for high-density IT environments, the PDUH20DV features 14 total outlets—four C13 in front and eight C13 and two C19 in the rear.

The C20 input plug with detachable 12-foot (3.7 m) cord connects to your facility's compatible AC power source, generator or protected UPS to distribute power to connected equipment. A NEMA L6-20P adapter is included for 208/240V power environments. The C20 inlet accepts any country-specific power cord with a C19 connector.

The switchless design prevents an accidental shutdown, which could lead to costly downtime. The reversible all-metal housing supports a variety of mounting options, including 1U horizontal or 0U vertical mounting in EIA-standard 19-inch racks, under a counter or on a wall or workbench.
Reliable Single-Phase 20A 100–240V Power Distribution
Versatile no-frills PDU for data centers, server rooms and network wiring closets
14 total outlets—4 C13 in front, 8 C13 and 2 C19 in rear
C20 input with detachable 12 ft. cord and NEMA L6-20P adapter
Inlet accepts any country-specific power cord with C19 connector
Rear-panel grounding lug
Switchless Design
Prevents accidental shutdowns and costly downtime
Versatile Installation Options
Reversible all-metal housing faces front or rear in rack
Supports 1U horizontal or 0U vertical mounting in EIA-standard 19 in. racks
Also mounts on wall, workbench or under a counter
PDUH20DV 1.6–3.8kW Single-Phase 100–240V Basic PDU
Detachable C19-to-C20 power cord
NEMA L6-20P plug adapter
Mounting brackets
Owner's manual
Inquiry - 1.6–3.8kW Single-Phase 100–240V Basic PDU, 14 Outlets (12 C13 & 2 C19), C20 with L6-20P Adapter, 12