TRIPP LITE 3.2–3.8kW Single-Phase Switched PDU with LX Platform Interface, 200–240V Outlets (20 C13 & 4 C19), C
Brand: TRIPP LITE BY EATON
---
---
3.2–3.8kW Single-Phase Switched PDU with LX Platform Interface, 200–240V Outlets (20 C13 & 4 C19), C20/L6-20P, 0U, TAA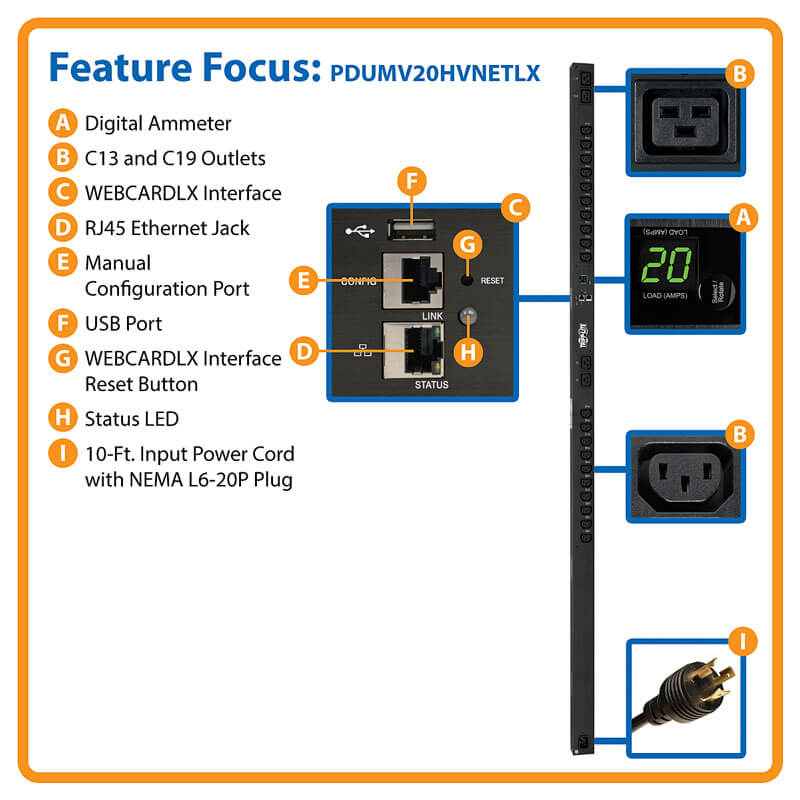 3.2–3.8kW vertical PDU distributes, monitors and manages single-phase power in an IT or industrial environment. Built-in network interface helps you remotely monitor load levels to prevent overloads that cause downtime.
3.2–3.8kW 200/208/230/240V switched PDU
24 individually controllable outlets—20 C13, 4 C19
Built-in LX Platform interface for 24/7 remote access
Auto Probe for Autonomous Device Management
Digital ammeter for on-site load monitoring in real time
C20 inlet with 10ft NEMA L6-20P AC power cord
To enable the Auto Probe feature, this product requires LX firmware update 15.5.2 or later to be installed
The PDUMV20HVNETLX 3.2–3.8kW Single-Phase Switched PDU provides advanced network control and remote power monitoring with the ability to turn on, turn off, reboot or lock out power to each outlet. Recommended for any IT or industrial application, it features 24 switched outlets (20 C13 and 4 C19) with included plug-lock insert sleeves to prevent cables from becoming accidentally disconnected. A 10-foot cord with NEMA L6-20P plug connects the PDU's C20 inlet to a compatible AC power source, generator or protected UPS.

The built-in Java-free HTML5-based LX Platform network interface enables full remote access for PDU status monitoring and email notifications via secure web browser, SNMP, telnet or SSH. It supports 10/100 Mbps auto-sensing for optimum communication with an Ethernet network. Optional EnviroSense2 modules (sold separately) provide a variety of environmental monitoring capabilities. Protocols supported include HTTP, HTTPS, SMTP, SNMPv1, SNMPv2, SNMPv3, telnet, SSH, FTP, DHCP and NTP.

A digital ammeter allows you to monitor each bank's load in real time to ensure it remains well below maximum capacity with no danger of overload. The vertical PDU mounts in 0U of space in EIA-standard 19-inch racks using the included toolless mounting buttons or the included rack-mounting brackets. Use the included PDUMVROTATEBRKT kit to install the unit with outlets facing the rear for better airflow or equipment access.
Distributes Network-Grade Single-Phase Power
3.2–3.8kW 200/208/230/240V switched PDU
Recommended for network applications requiring individual outlet control, load shedding and remote monitoring of critical network components
Includes detachable NEMA L6-20P plug with 10 ft. cord; C20 inlet supports user-supplied international input cabling
Firmware upgrades support future product enhancements
24 Switched Outlets Distribute AC Power
20 C13 and 4 C19 outlets split into 2 separately breakered load banks
Individual outlets can be remotely controlled to power up, power down, reboot or lock out devices
Plug-lock inserts prevent cables from becoming accidentally disconnected
Digital Ammeter
Reports load level on each bank and total PDU output
Supports IP-address self-ID
Rotates 180° for easy reading at either angle
Built-In LX Platform Interface
Allows full remote access for power monitoring with email notifications via secure web browser, SNMP, telnet or SSH
Supports 10/100 Mbps auto-sensing for communication with an Ethernet network
Optional EnviroSense2 modules (sold separately) provide a variety of environmental monitoring capabilities
No Java required
Broad Communications Compatibility
Supports HTTP, HTTPS, SMTP, SNMPv1, SNMPv2, SNMPv3, telnet, SSH, FTP, DHCP and NTP
Supports automatic and manual assignment of IP address
Reduce Service Calls with Auto Probe Autonomous Device Management
The Auto Probe feature (Firmware 15.5.2 and greater) checks the connectivity status of any networked device and automatically takes one or more user-configured actions if the device fails to respond; actions include outlet reboot, set SNMP traps, SNMP OID sets, and even script execution when used in conjunction with the Tripp Lite PowerAlert Network Shutdown Agent (PANSA)
Easy 0U Installation in EIA-Standard 19 in. Racks
Mounts vertically using included toolless buttons or rack-mounting brackets
Included PDUMVROTATEBRKT allows mounting with rear-facing outlets
TAA-Compliant
Compliant with the Federal Trade Agreements Act (TAA) for GSA Schedule purchases
PDUMV20HVNETLX 3.2–3.8kW Single-Phase Switched PDU
Built-in LX Platform interface
Detachable NEMA L6-20P to C19 power cord, 10 ft.
Configuration cable
(24) Plug-lock inserts
Rack-mounting hardware
PDUMVROTATEBRKT mounting bracket accessory
Owner's manual
Inquiry - TRIPP LITE 3.2–3.8kW Single-Phase Switched PDU with LX Platform Interface, 200–240V Outlets (20 C13 & 4 C19), C