TRIPP LITE NetCommander 16-Port Cat5 KVM over IP Switch - 19 in. LCD, 2 Remote + 1 Local User, 1U Rack-Mount
Brand: TRIPP LITE BY EATON
---
---
NetCommander 16-Port Cat5 KVM over IP Switch - 19 in. LCD, 2 Remote + 1 Local User, 1U Rack-Mount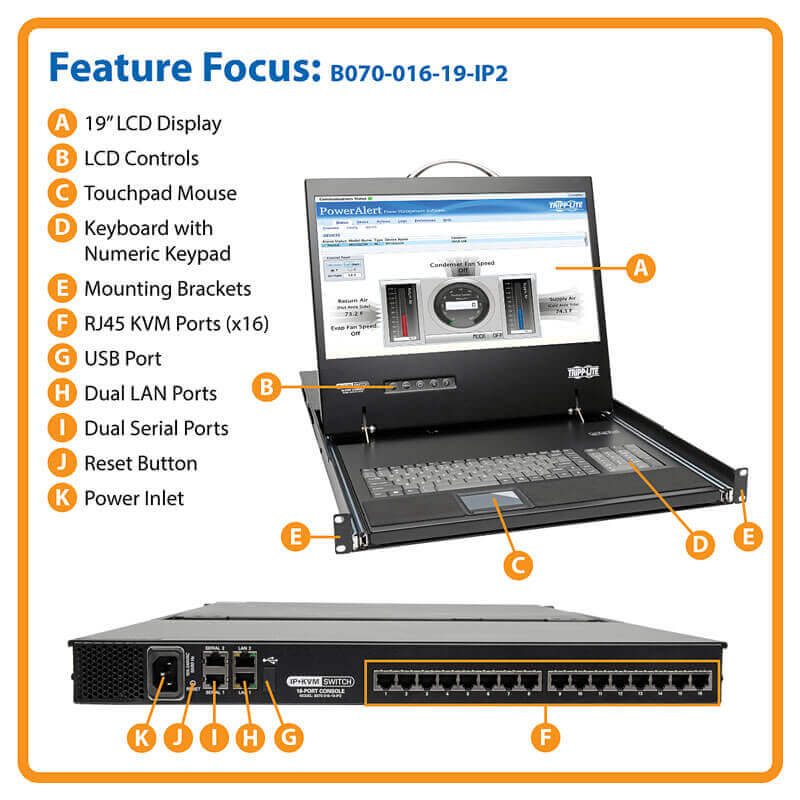 1U KVM switch connects up to 16 computers and/or servers and allows up to 3 users to control them simultaneously. Recommended for IT professionals who need convenient remote and rack-side access to data center components.
19 in. LCD supports video resolutions up to 1366 x 768
Cat5e/6 cabling connects computers/servers up to 100 ft. away
Simultaneous support for 3 users—1 local, 2 remote
Supports IPv4 and IPv6
Mounts in 1U of space in EIA-standard 19 in. rack
Tripp Lite's B070-016-19-IP2 NetCommander® 16-Port Cat5 1U Rack-Mount Console KVM Switch includes a full keyboard, 19-inch LCD screen and touchpad in a 1U rack-mount console. It connects up to 16 computers and/or servers and allows you to control them locally or remotely via LAN, WAN or web browser.

Connect computers/servers up to 100 feet away using Cat5e/6 cabling and a compatible Tripp Lite B078-Series server interface unit (B078-101-USB2 required for Fast Virtual Media speeds up to 12 Mbps). Dual 10/100 LAN ports ensure uninterrupted remote access in case one port should fail. A local user and two remote users can log on simultaneously and switch between the 16 ports using an on-screen display, hotkeys or remote toolbar. Multi-level password protection prohibits unauthorized access.

The LCD supports video resolutions up to 1366 x 768. Dual serial ports allow control of serial devices, such as IP PDUs, firewalls and routers. You can assign individual ports to an IP PDU port to power on/off the server connected to that port. The heavy-duty steel housing slides neatly into the rack when not in use.

Free NetCommander-AXS management software is available to access and control your Tripp Lite NetCommander IP KVM switches (B070 and B072 Series). From a single interface, you can access server ports on any of your KVM switches, power cycle or power on/off outlets of IP PDUs, and manage KVM settings. This software can be found at the Technical Support link in the right-hand column.
Includes 16-Port KVM Switch, 19 in. LCD, Keyboard and Touchpad
Mounts in 1U of space in EIA-standard 19 in. rack
Connects up to 16 computers/servers up to 100 ft. away via Cat5e/6 cabling and Tripp Lite B078 Series SIUs
To convert DisplayPort or HDMI computers to VGA, use Tripp Lite adapters P134-06N-VGA-V2 or P131-06N. Maximum video resolutions using adapters may vary.
Fast Virtual Media KVM system: U.S. Patent #9,417,720
BIOS-level control of any server brand and model
IP Remote Access for Fewer Trips to the Server Room
Java-based application allows Windows computers to control a target server via web browser from any location over a secured IP connection
A non-browser client is available that allows Windows computers to remotely access the KVM without the need for a browser and without the need to install Java
Up to 3 users (1 local, 2 remote) can sign in simultaneously
Up to 5 users can share a single session
Supports both IPv4 and IPv6
Dual 10/100 Mbps LAN ports for uninterrupted remote access in case one port should fail
Simplifies IT Tasks
Users can switch between ports via on-screen display, hotkeys or remote toolbar
Dual RJ45 serial ports for connecting IP devices, such as PDUs, firewalls and routers
Assign individual ports to an IP PDU port to power on/off the server connected to that port
Virtual Media allows .iso file to be mounted to target server and accessed directly
Supports RADIUS and LDAP/S authentication
Log tracks events on your installation
Large 19 in. LCD Screen
Supports video resolutions up to 1366 x 768; 1920 x 1080 remotely
DDC emulation allows for optimal output to LCD
Advanced Security Features
Multi-level password protection—create administrator accounts with full access and user accounts with limited access
Supports TLS 1.2 security protocol
Free NetCommander-AXS Management Software
Access and manage all of your NetCommander IP KVM switches from one interface
Access server ports on any KVM, power cycle or power on/off outlets of IP PDUs, and manage KVM settings
Free download available at Technical Support link in right-hand column
TAA-Compliant
Compliant with the Federal Trade Agreements Act (TAA) for GSA Schedule purchases
Computer/server with HD15 or USB port and PS/2 keyboard/mouse ports
B078-Series SIU and Cat5e/6 cabling required for each connected computer/server
For computers with Displayport or HDMI, change to VGA using Tripp Lite adapters P134-06N-VGA-V2 or P131-06N. Maximum video resolutions using adapters may vary.
Windows or Linux operating system (Windows required for remote access)
Remote console computers require minimum Pentium 4 with 2 GB memory
SCHUKO (P054-006) or BS-1363 (P056-006-10A) power cords required for international use
B070-016-19-IP2 NetCommander 16-Port Cat5 1U Rack-Mount Console KVM Switch
C13 to NEMA 5-15P power cord, 6 ft.
Rack-mounting hardware
Quick Start Guide
Inquiry - TRIPP LITE NetCommander 16-Port Cat5 KVM over IP Switch - 19 in. LCD, 2 Remote + 1 Local User, 1U Rack-Mount