DIGITAL MULTIMETER DT4261
Analyzing Issues in the Field and Dramatically Improving Work Efficiency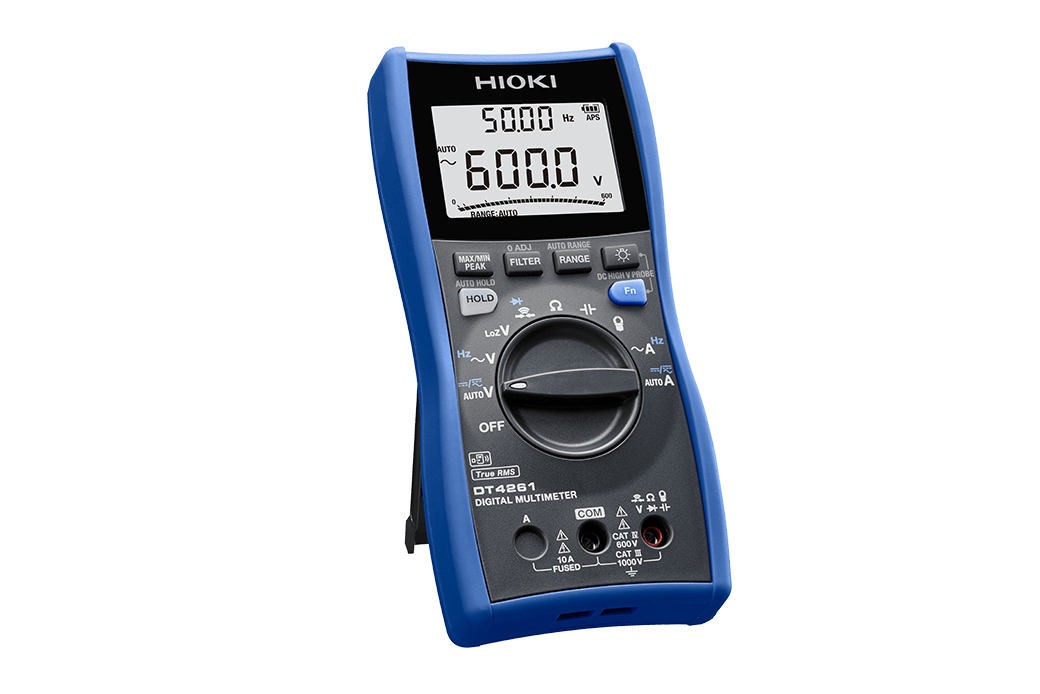 Hioki mid-range DMM, the DT4261, is an exceptional support tool with multifaceted functionality designed to help analyze a variety of issues and boost work efficiency.
CAT III 1000 V, CAT IV 600 V
Key Features
Helping personnel analyze issues in the field

Boost work efficiency with digitalization (Excel® Direct Input Function)

Ensuring safety by preventing erroneous test lead insertion (terminal shutters)

Stop worrying about losing test lead caps

Excellent dust and water resistance (compliant with the IP54 international standard)
Basic specifications
Accuracy guaranteed: 1 year, Accuracy guarantee period after adjustment made by Hioki: 1 year
DMM Accuracy: Due to the many ranges and functions available in a DMM, only the basic accuracy is indicated for reference. Please refer to the brochure for detailed accuracy information.
DC Voltage range
600.0 mV to 1000 V, 5 ranges, Basic accuracy: ±0.15% rdg. ±2 dgt.
AC Voltage range
6.000 V to 1000 V, 4 ranges, Frequency characteristics: 40 Hz to 1 kHz
Basic accuracy 40 Hz - 500 Hz: ±0.9% rdg. ±3 dgt. (True RMS, crest factor 3 or less)
DC + AC Voltage range
6.000 V to 1000 V, 4 ranges, Frequency characteristics: DC, 40 Hz to 1 kHz
Basic accuracy DC, 40 Hz - 500 Hz: ±1.0% rdg. ±13 dgt. (True RMS, crest factor 3 or less)
LoZ V
600.0 V, 1 range, Frequency characteristics: DC, 40 Hz to 1 kHz
Basic accuracy DC, 40 Hz - 500 Hz: ±1.0% rdg. ±13 dgt. (True RMS, crest factor 3 or less)
Resistance range
600.0 Ω to 60.00 MΩ, 6 ranges, Basic accuracy: ±0.7% rdg. ±3 dgt.
DC Current range
600.0 mA to 10.00 A, 3 ranges
Basic accuracy: ±0.5% rdg. ±3 dgt.
AC Current range
600.0 mA to 10.00 A, 3 ranges
Basic accuracy 40 Hz - 500 Hz: ±1.4% rdg. ±3 dgt. (True RMS, crest factor 3 or less)
Frequency characteristics: 40 Hz to 1 kHz
AC Current range (use with Clamp on probes)
10.00 A to 1000 A, 7 ranges
Basic accuracy 40 Hz - 500 Hz: Add the Clamp on probe accuracy to ±0.9% rdg. ±3 dgt.
(True RMS, crest factor 3 or less)
Capacitance range
1.000 μF to 10.00 mF, 5 ranges, Basic accuracy: ±1.9% rdg. ±5 dgt.
Continuity Check
Continuity threshold ON : 25 Ω, Continuity threshold OFF : 245 Ω, Response time: 0.5 ms or more
Diode test
Open terminal voltage: 2.0 V or less, Testing current: 0.2 mA or less, Threshold of forward voltage: 0.15 V to 1.8 V
Voltage frequency range
99.99 Hz to 99.99 kHz, 4 ranges (Limited by minimum sensitivity voltage)
Basic accuracy: ±0.1% rdg. ±1 dgt.
Current frequency range
99.99 Hz to 9.999 kHz, 3 ranges (Limited by minimum sensitivity current)
Basic accuracy: ±0.1% rdg. ±1 dgt.
Other functions
Mis-insertion prevention shutters, fuse check function, user setting retention function, filter function, zero-adjustment, display value hold, auto hold, MAX/MIN value display, PEAK value display, auto-power save, USB communication (when optional Communication Package DT4900-01 is installed), wireless communication (when optional Wireless Adapter Z3210 is installed)
Display
Main and sub displays: 4-digits LCD, max. 6000 digits (excluding frequency measurement), bar-graph
Display refresh rates
5 times/s (Capacitance measurement: 0.05 to 5 times/s, depending on measured value, Frequency: 1 to 2 times/s)
Power supply
LR6 (AA) alkaline batteries × 3, Continuous operating time: 130 hr. (without Z3210 installed), 70 hr. (with Z3210 installed and using wireless communications)
Dimensions and mass
87 mm (3.43 in.) W × 185 mm (7.28 in.) H × 47 mm (1.85 in.) D, 480 g (16.9 oz.) (with test leads holder and batteries)
Accessories
Test Lead L9300 × 1, Instruction Manual × 1, LR6 (AA) alkaline battery × 3, Operating Precautions ×1
Inquiry - DIGITAL MULTIMETER DT4261